Announcements
Subscribe

If you would like to receive email notifications for our service schedule or upcoming events, you can subscribe by clicking on the link below. Make sure to white-list info@stmaryseattle.org

Subscribe

Coptic Calendar

You can view the Coptic calendar from the 'Calendar' menu on the top of this page (or by clicking on the link below). The Coptic calendar page shows the Saints of the day, with a link to read more about them each day from the Synaxarium.

Coptic Calendar
Service Calendar

Please check the calendar page on the website (link below), or the Upcoming Events section on this page (on the right side of this announcement) for updates on services schedule.

Calendar
Upcoming events
10:00 AM to 12:30 PM - Unction of the Sick

12:30 PM to 3:00 PM - Holy Liturgy

6:00 PM to 7:30 PM - Friday School of Hymns

Hymns classes covering KG to 8th grade.
9:00 AM to 11:30 AM - Holy Liturgy

7:00 PM to 9:30 PM - Palm Sunday Vespers

7:30 AM to 8:30 AM - Matins / Procession
8:30 AM to 12:00 PM - Holy Liturgy

12:00 PM to 1:00 PM - The Public Funeral Prayer

6:00 PM to 9:00 PM - Monday Eve - Pascha Prayers (1st-11th hours)
6:30 AM to 7:30 AM - Pascha Prayers (1st & 3rd hours)

10:00 AM to 12:00 PM - Pascha Prayers (6, 9, & 11th hours)
Coptic Orthodox Faith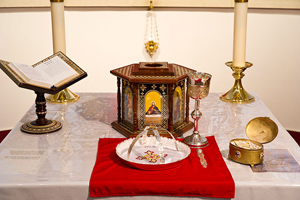 The Coptic Church believes in One God. The Bible and personal experiences teach us that God has three hypostasis‐ Father, Son, and Holy Spirit. No Hypostases is higher than the other, yet all exist as One, just as the Sun is a sphere, emits heat and begets light.
A mystery (aka a Sacrament) is an invisible grace (by the Holy Spirit‐God Himself) given through a visible (material) means. The mysteries can only be administered by a canonical priest. God Himself ordained the first priests and bishops when the Holy Spirit was given to the Apostles, conferring authority to administer mysteries and to ordain others to do so after them.
read more