Announcements
Saint Mary's Nahda (Revival)

August 7 to 22 - Saint Mary's Nahda (Revival/ Glorification) is held during weekdays (Mon-Fri) from 7:00 pm to 9:00 pm. Weekday Liturgy Schedule: Monday 7:00 - 9:00 AM Tuesday 7:00 - 9:00 AM Wednesday 9:00 - 11:00 AM Thursday 7:00 - 9:00 AM Friday 10:00 - 12:00 PM. May the intercessions of St Mary be with all of us.

Church By-Laws

The Church By-Laws document is now uploaded to the website, and can be viewed by clicking on the link below, or going to the "Media" menu, selecting the "Articles" page, and going to the "Know Your Church" folder.

View Document
Servant Appointments with Fr. Arsanios

Dear servants, Fr. Arsanios would like to have one on one meetings with you to discuss service during this year, and to work on the service distribution for next year. To schedule an appointment with Fr. Arsanios, please click on the link below.

Schedule Appointment

Weekday Liturgies

The weekday liturgies will resume starting June 25th. Wednesday liturgies from 9 am to 11 am. Friday liturgies from 10 am to noon.
Church Registration Form

All church members of St Mary's Coptic Orthodox Church are requested to fill out the online registration form. The collected information is treated with confidentiality and used to enhance the level of service so you are kindly requested to provide all the required information and to select the preferred method for receiving notifications.

Fill Form
Upcoming events
10:00 AM to 12:00 PM - Liturgy

Liturgy every Friday

7:30 PM to 9:00 PM - Youth Meeting

English Youth Meeting

6:30 PM to 8:00 PM - Youth Meeting

Arabic Youth Meeting
8:30 AM to 12:00 PM - Liturgy

Liturgy every Sunday

7:00 AM to 9:00 AM - Holy Liturgy

August 7 - August 22
Coptic Orthodox Faith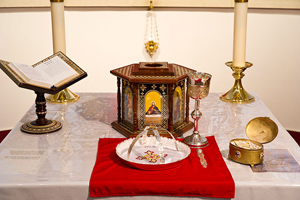 The Coptic Church believes in One God. The Bible and personal experiences teach us that God has three hypostasis‐ Father, Son, and Holy Spirit. No Hypostases is higher than the other, yet all exist as One, just as the Sun is a sphere, emits heat and begets light.
A mystery (aka a Sacrament) is an invisible grace (by the Holy Spirit‐God Himself) given through a visible (material) means. The mysteries can only be administered by a canonical priest. God Himself ordained the first priests and bishops when the Holy Spirit was given to the Apostles, conferring authority to administer mysteries and to ordain others to do so after them.
read more